Orlando Camera Club present's Gerald Wu as March 2018 Member Spotlight.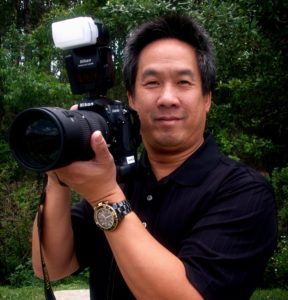 Gerald has been a professional photographer for over 27 years. He was born in Freeport, (Long Island) New York. Gerald attended Rutgers University in New Brunswick, NJ. He started photography with a Nikon manual film camera.
His areas of interests are in commercial, landscapes, wildlife, architectural and fine art photography.
His passion for photography came from a young age while using 35mm (Nikon / Minolta) and medium-format (Hasselblad /Mamiya) film cameras.
Gerald is also an established Film Director / Cinematographer / Producer in the entertainment industry for over 32 years.
Originally from New York City, Gerald was a member of several camera clubs in the northeast and Florida. He has taught photography classes to high schools, universities and private institutions. He currently shoots both film and digitals cameras across Florida.

Previous member spotlights are available below.Member Spotlights are monthly and showcase an OCC member so we can get to know them a little better. Monthly Spotlights are also available in the OCC Monthly Newsletter.
Joe Drivas – February 2018
Wayne Bennett – January 2018
Ken Blye – December 2017
Holly Manus – October 2017
Gary Shaver – August 2017
Ansa Du Toit – July 2017