What is a Photo -Trek?
Photo-Trek events are put on by the Orlando Camera Club to raise money and provide unique location photographic opportunities.  Currently Photo-Trek funds the club's scholarship commitment to the University of Central Florida.   We have awarded four $500 scholarships each of the past three years.
Next Photo-Trek Event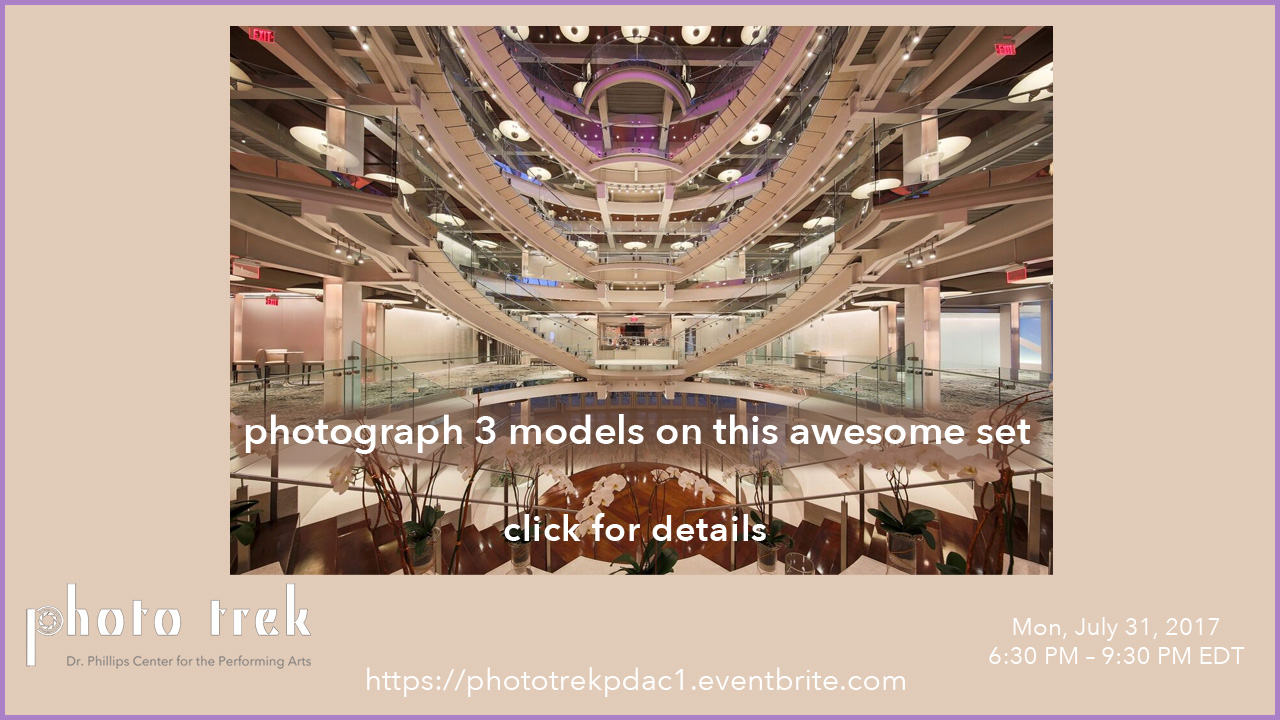 This is an opportunity to photograph three models in different locations inside this magnificent location. Limited places available. Photographers will be separated into groups of six allowing plenty of time for everyone to get great images.
Each of our models will make one wardrobe change and also visit each location. A host photographer will be assigned to each group so we can easily move from location to location.
Register early. Click on this link to register, To Register Click Here
Parking is available on the garage adjacent to the CNL Building.
Past Photo-Trek Events
Cosplay and Maitland Art Center
Cocoa Beach
Dr. Phillips Center for Performing Arts
How does Photo -Trek  work?
Each event is limited to 18 photographers.  There are at least three models and three "Host Photographers".   One model and one Host work as a team.  The 18 participants are divided into three groups of six photographers each.  There are three locations at the venue and the participants rotate from one location to another.  This gives everyone a chance to photograph each model.  The models also move to give different looks in different locations.  The models also change once during the event so you get six different looks.  The role of the Host Photographer is to allocate time for each participant to photograph each model.  Others in the group are encouraged to wait until it's their time with the model.  The event is usually over in about three hours.
Where are Photo-Trek events held?
The last event was held in December at The Dr. Phillips Center for the Performing Arts in Orlando.  It was one of our most successful events. Others have been help at different interesting venues around the Orlando area.  We have been at The Mennello Museum of American Art, Cocoa Beach and Ft. Christmas.   All these locations have been sold out.
What's Next?
The next Photo-Trek is still in the planning stages and will be announced shortly.
How do you sign up?
We use Eventbrite.  Stay tuned for more information on the date for the next Photo-Trek.
Thanks,
Ron
For more information or questions email photo-trek@orlandocameraclub.com